Department Hours
Monday 8:00 am - 5:00 pm
Tuesday 8:00 am - 5:00 pm
Wednesday 8:00 am - 5:00 pm
Thursday 8:00 am - 7:00 pm
Friday 8:00 am - 5:00 pm
(Some) Saturday 8:00 am - 12:00 pm
Sunday Closed

Consultation Fees
To allow for quality time that is not pressured or rushed, our doctors privately bill.  We do not bulk-bill.
If you have more than two issues to discuss, please consider booking a long appointment.
We wish to advise that the fees for our Medical appointments are changing from 17th July 2023.  We have not increased fees for our Doctor appointments since 2022, and unfortunately, our current fees are no longer sustainable.  From 17th July fees will be as follows: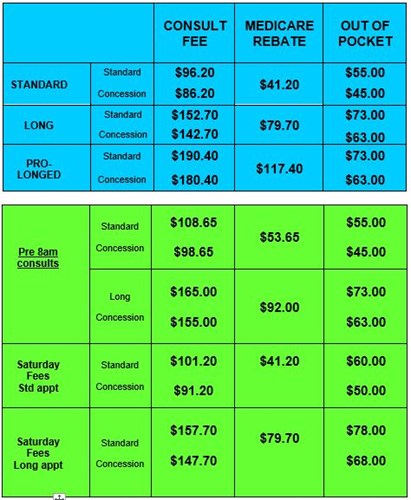 Medical Procedures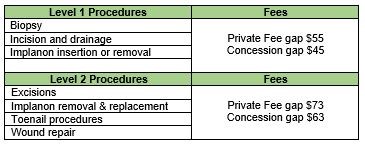 * All Injections (including B12 and Prolia and many others) will incur a $20 gap above the Medicare rebate.
Please ask about HCC/Pensioner Fees.
Appointments prior to 8.00am Monday – Friday, and all appointments on Saturdays attract higher fees.  Please contact reception for these fees.
Weekend Appointments
For your convenience, our practice is open on Saturdays from 8 am-12 pm.  
On-Site QML Collection Facility
Open from 8.00am - 12.00pm Monday to Friday.
Waiting Times
We do our best to keep waiting times to an absolute minimum.  Our doctors are committed to giving all patients the time that is necessary.  Please feel free to call ahead (especially if you have young children) and check if your doctor is on schedule.
You can help us to reduce waiting times by:
Requesting a longer consultation for complicated or several issues to discuss.
Cancelling or rescheduling appointments with 24 hours notice.

After Hours
We provide After Hours Care for our patients through Hello Home Doctor Service (Ph: 134 100). This is a professional organisation of rostered doctors that cover the after-hours care for this Practice. Please refer to https://hellohomedoctor.com.au/  for more information.

Cancellation Policy
We understand that life is unpredictable and you may not always be able to make your scheduled appointment.  If you can't make an appointment please contact our reception at least 24 hours prior to cancel or arrange for another time. 
Missed appointments and appointments cancelled without 24 hours notice may be charged the full consultation fee.

Contact our Reception team on (07) 3249 5333 for further information
We Service South East Brisbane:
Birkdale, Bulimba, Camp Hill, Cannon Hill, Capalaba, Carina Heights, Carindale, Chandler, Cleveland, Gumdale, Hawthorne, Hemmant, Lota, Lytton, Manly, Morningside, Murarrie, Ormiston, Ransome, Redland Bay, Sheldon, Thornlands, Thorneside, Tingalpa, Victoria Point, Wakerley, Wynnum, Wynnum West.